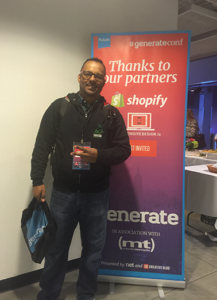 Considerados el Dream Team y "trendsetters" en Front-End Development fueron los speakers que participaron de GenerateNYC el 22 de abril en el super New World Stages en el corazón de Manhattan. Generate NYC se llevara  a cabo más adelante a San Francisco, Sydney, London y finalmente en Bangalore.. so no me lo podía perder!
Los temas de mas interés fueron sobre UX, Accesibility, Mobile UI, Responsive Web, Unified UX, entre otros temas;
El equipo de Shopify estuvieron presentes, tanto como sponsors (al igual que .NET Magazine) y como speakers en una sesión especial durante el almuerzo ..which I didn't missed obviously :).
Sin lugar a dudas, los mejores speakers fueron:
Stephen Gates @sdgates (Apple, Google & Adobe designer)
La charla de Gates se llamaba "1% Inspiration. 99% Designing, Prototyping and Testing" y uno de sus slides llamaron mucho a atención, ya que fue una dura crítica a la filosofía de Facebook "Move Fast and Break Things" la cual en realidad debe ser "Slow Down and Fix your Shit".
Adicional, enseñó técnicas para ejercitar el proceso creativo, que funciona y que no funciona, como salir del Comfort Zone, ya que "Comfort is the enemy of greatness".
Su presentación se puede descargar (PDF) desde el siguiente enlace: http://www.stephengates.com/GenerateNYC-Gates.pdf
Tim Kadlec @tkadlec (Web Technology Advocate at Akamai)
Para mobile prototyping and designing, Kadlec nos mostró, utilizando data, como los usuarios perciben el response inmediato a 100ms (eliminando los 300ms por defecto de los navegadores cuando se hace un Tap) y como a través de animaciones se logra reducir esa percepción de "espera" mientras se habla con la base de datos con varios case studies.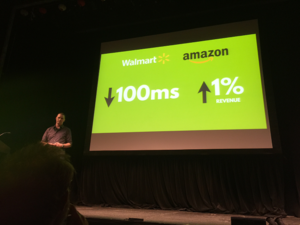 Tal y como se muestra en el Tweet anterior —que pude enviar durante su participación—  se muestra el handshake que ocurre después de un "Tap" (forget about "clicks") lo que puede aumentar especialmente si no se minimizan los requests al server para obtener recursos.
¿Lo mejor para lo ultimo? Yep, funcionó! Dan Mall nos deleitó con varias técnicas para realizar research, obtener feedback aun cuando parezca imposible de lograrlo ya que "it's always easier to revise than to create", Dan nos llevó por un tour sobre la teoría de McDonalds;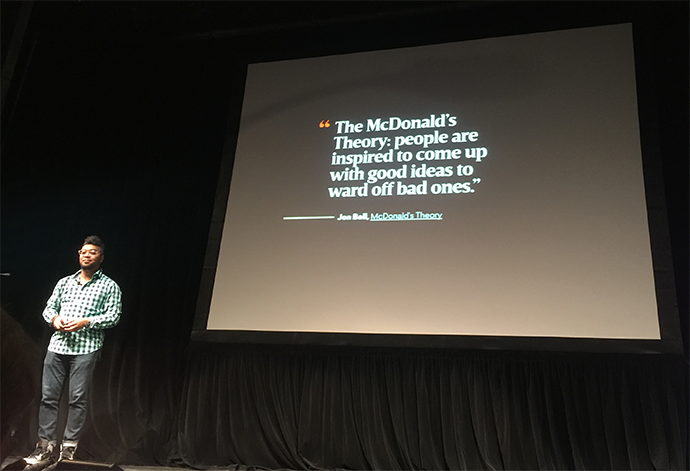 Entre otros speakers que me impresionaron fueron: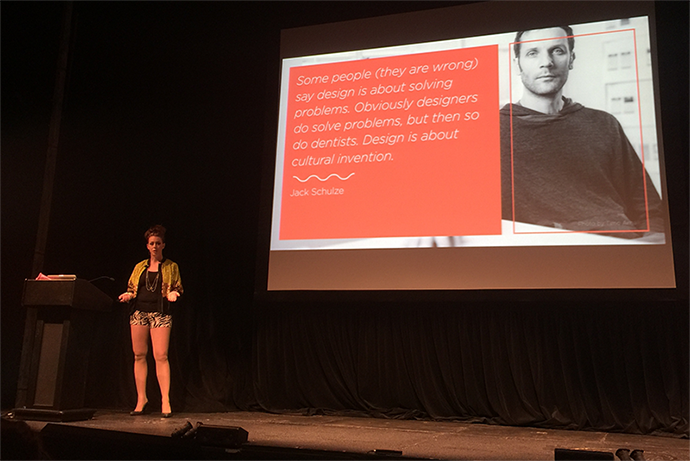 Al final, satisfecho con todo el material presentado, llego la hora más esperada.. meet the best awesome people in the world at the Hudson Terrace!! the after party was a beautiful touch!
'Til next time NYC!