Like a ring on a finger! That's how RevolutionConf  felt to me and probably every full-stack/backend developer out there. It was a nice experience, great city with great people, the same people that will change the world, "the crazy ones" as Steve Jobs referred to in his 1997 commercial.
I would like to enumerate just a couple of reasons why the trip to Virginia Beach, VA was totally worth it:
Perfect location, not because of the great views to the beach from my suite but because these guys are gearing up to become the next tech hub or better yet a much better version of Silicon Valley in the east;
Top-notch speakers, engineers from Yahoo, Microsoft, etc. were all there sharing their knowledge, resources and techniques to attendees.
Mobile-first Conference! It was definitively a well designed conf for mobile developers and I just loved it from the beginning, with talks like: Cross-Platform Desktop Apps with Electron, Building Bulletproof Mobile SDKs, Breaking into Gaming with Unity, Building React-Native on Windows, etc. did fuel my thirst to get out of my comfort zone and motivate me to learn new technologies and play with a bunch of new cool toys again!
Happy hour included —at the end— was awesome, couldn't enjoy it more because I had to get ready for my Washington DC trip early that night but that's a subject for another blog post.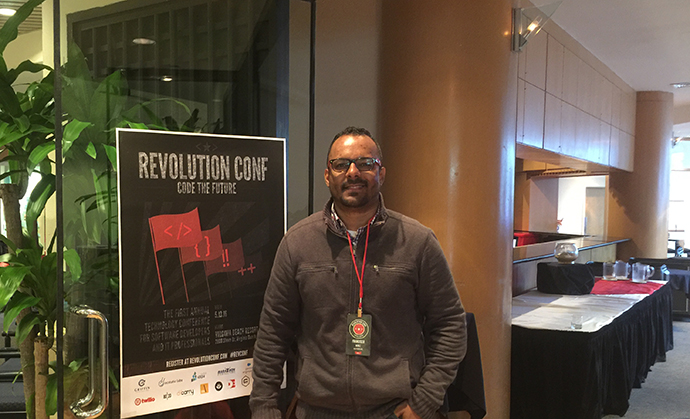 RevolutionConf was perfect, even though it was its first edition, but it was so freaking organized it felt like it was its 10th at least, congratulation to the team (it's founders) @erikpmp, @1kevgriff and @lynnaloo for their GREAT job.
The talks I enjoyed the most are…
Cross-Platform Desktop Apps with Electron
David Neal | Developer Advocate, LeanKit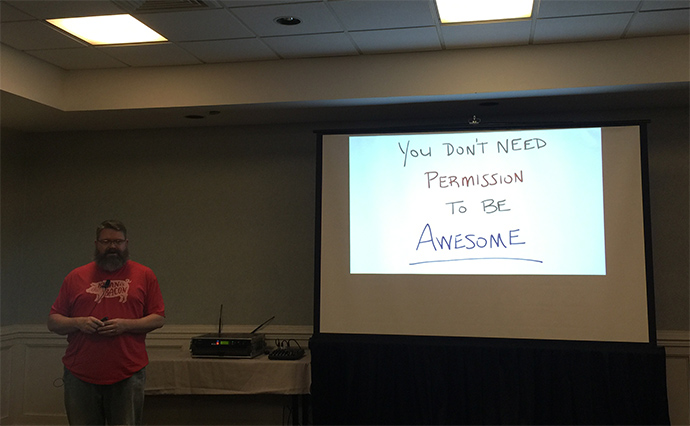 Oh this guy @neal is so cool, even his #bacon t-shirt deserves its own website! he's the very definition of a geek 😀
David talked about how to develop native standalone applications for desktop using only Web technologies with a little help from Electron. It's so easy to create cross platform software! with that native Look&Feel that users and even experts won't notice if the software is in fact using native components or just basic HTML/CSS/JS stuff, don't believe me? take a look at the following list:
Impressed? all of those are Electron-based Apps …Yep, done with Web technologies and several plugins to use native behavior like native menus, automatic updates, system tray notifications, windows installers, etc.
I'm definitely be working on making Kapicu Pro available for Mac/PC thanks to Electron as one of my free projects in the near future so stay tuned!
Breaking into Gaming with Unity
Adina Shanholtz | Technical Evangelist, Microsoft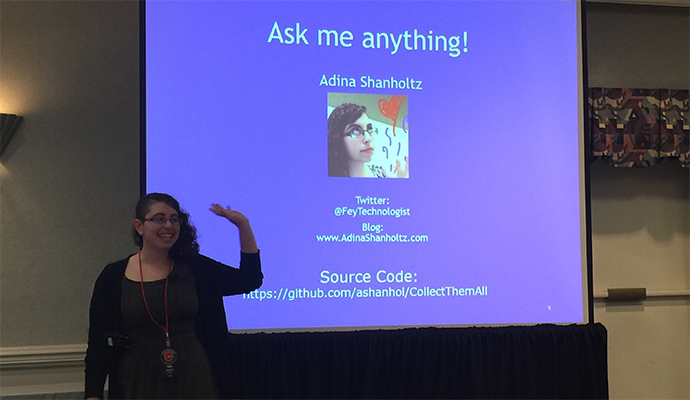 Adina showed us how easy the Unity interface really is, how to handle collisions, triggers, events, coding with C# and a little tour for setting up our viewport which can be a little intimidating with those 2D/3D camera views. It's a new dev environment and one I have to get used to in order to deploy native game using Unity as a gaming engine.
Building React-Native on Windows
Erik Schegel | Senior Software Engineer, Microsoft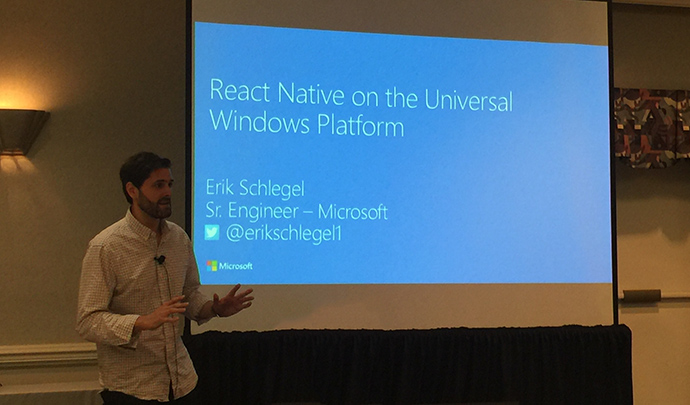 I definitely have to take a deep look at react-native; Why? Well, is soooo fast!!! Why? It has a beautiful concept called a Virtual DOM not like the one Apache Cordova or Xamarin uses to update the GUI.
React-Native is an Open Source JS lib actually being maintained by Facebook and Instagram.
Building Bulletproof Mobile SDKs
Michael Rollins | Principal Software Engineer, Yahoo / Flurry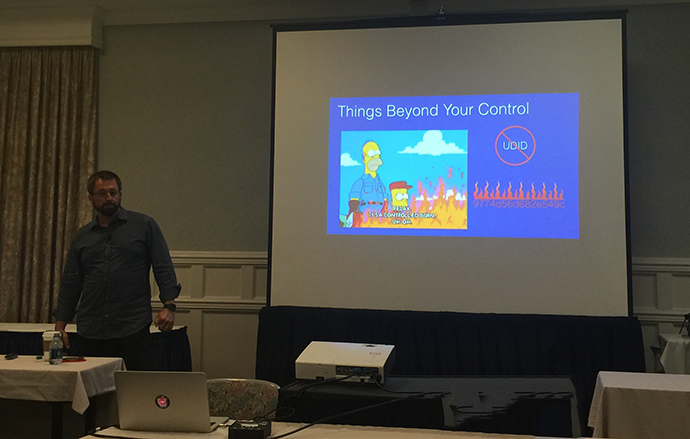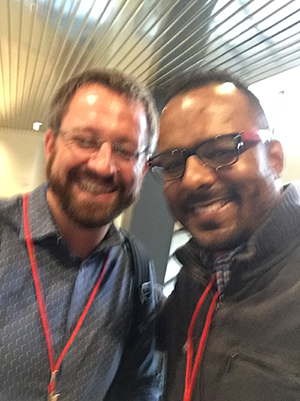 Hands down the best talk of the day, I mean the others were great but.. I feel like I have to actually choose one, right? @rollinsio, Chief Dev at Yahoo taught us how to treat developers/consumers when using our own SDKs and what could happen if we don't.
"Don't mess with developers" ..that's a great lesson right there! Rollins also reminded us not to make assumptions, treat them —developers— with respect, anything can backfire and it you made a mistake —once your SDK is released— you have to learn to live with it FOREVER!
Had a nice chat with him at the end, got a great advice, great guy and a very down-to-earth genius.
Looking forward to RevolutionConf 2nd edition in 2017; Hope to meet more awesome people again in VA with double attendees, 2-day sessions, and more awesomeness to the geek community!
Thank You RevolutionConf! ¡Viva la Revolución!